A regular working meeting of representatives of the expert community of Bureau of Economic Security of Ukraine, Security Service of Ukraine, State Tax Service of Ukraine, Armed Forces of Ukraine, Cyberpolice Department of the National Police of Ukraine, Department of Economic and Cyberspace Security of the Prosecutor General's Office of Ukraine, and business with LIGA ZAKON company took place on the basis of UNGO "Taxpayers Association of Ukraine"
23.06.2022 &nbsp &nbsp 10:35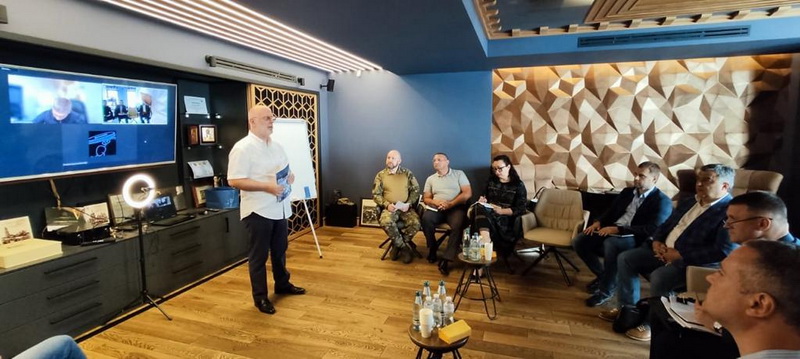 The Taxpayers Association of Ukraine continues to focus its efforts on building a sustainable system of economic security of the state.
Then, on June 22, 2022, a regular meeting of the formed working group of representatives of the Bureau of Economic Security of Ukraine, headed by BESU Director Vadym Melnyk, Security Service of Ukraine, Cyberpolice Department of the National Police of Ukraine, State Tax Service of Ukraine, Armed Forces of Ukraine, LIGA ZAKON company, Serhiy Kropyva, Director of the Department of Economic and Cyberspace Security of the Prosecutor General's Office of Ukraine, also joined the work.
In addition to developing a system of indicators and markers for identifying and monitoring risks and threats to the economic security of the state, the aim is to form modern algorithms for the work of analytical units of law enforcement agencies and special services.
The approaches discussed during the work of such expert environment will serve as a basis for the introduction of a new methodology for studying the shadow processes in the economy, the functioning of the criminal environment and criminal infrastructure, methods and mechanisms of terrorist financing and sabotage, to address vulnerabilities in state and economic security. It is also the basis for the formation of powerful data-analytics, as well as the construction of modern strategic management. Resources are still being used more to achieve short-term tactical goals — thus, practical units are «trapped», chasing workers through a vicious circle of «hot spots». Regardless of whether such tactics are based on sufficient data or whether they are updated in response to situational changes, in the absence of a strategic management plan, we still use the traditional — reactive — approach. This may in some ways contradict the essence of the first law of intelligence analytics: «analytics that cannot influence decisions are not real analytics,» so strategic management is the foundation for ensuring its effectiveness.